Haiti: International Jesuit solidarity in action
(26-Jan-2018)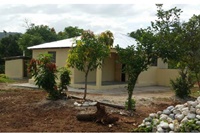 A fruit of the 36th General Congregation
As the 36th General Congregation of Jesuits opened its doors in Rome at the beginning of October 2016, one of the worst hurricanes in recent decades hit much of Haiti. Hundreds of deaths, thousands of homeless, hectares and hectares of crops lost.
The members of the Congregation, through prayer, joined the stricken populations and their Jesuit confreres working in Haiti. Prayer, as so many times, has led to action. While the Congregation's attention was focused in the days following the hurricane on the election of a new Superior General, Fr. Arturo Sosa, once in office the new superior remembered Haiti.
After consulting with his advisors and Fr. Jean-Marc Biron, provincial superior of French Canada and Haiti, he chose, among the first concrete gestures that would mark his generalate, to launch an appeal, before all the delegates, for Haiti. More specifically, after being informed of proposals made by the Haitian Jesuits who had visited the affected areas, he proposed that the universal Society participate in a project to build simple but solid houses for a number of the poorest families who had lost their homes.
A generous response
And the call was heard: from all over the world Jesuit Provinces, including those with very limited resources, made their contributions. Approximately one million dollars (USD) was raised and the proposal of the Haitian Jesuits was clarified: 75 houses would be built in severely affected communities. Every family would be involved in the construction process. It was a project involving the whole community of the beneficiary villages: the mayor and the parish priest participated actively. It all started in May 2017 under the supervision of a construction engineer from the Jesuit Development Bureau of Haiti, represented by Jean Thomas Dabady, SJ, and with the administrative assistance of the Jesuit Conference of Canada and the United States.
Results: what is done, what remains to be done
The keys of the first 15 houses were given to the beneficiary families in November 2017 in the municipality of Roseaux. The ceremony was held in the presence of Bishop Gontrand Décoste, SJ. Since December, 30 more houses are under construction, partly in Roseaux and partly in Desormeaux. Then it will be the last phase, in the Port-Salut region, in Cécé and Bergerac. In Haiti, construction materials are not always available, roads to transport them to the affected areas are deteriorated, and few skilled workers are available.
But the concrete participation of the Jesuits, in a context of international solidarity, is a strong sign of the involvement of the Society of Jesus, which is close to the poorest. It should be added that in addition to building housing, the project includes an important component of psychosocial support, prevention in the area of health, healing and support of people traumatised by the passage of Hurricane Matthew. All this illustrates a Jesuit "way of proceeding" that manifests a committed faith, a faith that builds community, a faith that promotes justice.
Brief News Archives