A foundational moment in a foundational place – Loyola, Spain
(12-Jul-2018)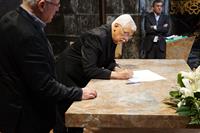 Father General Arturo Sosa officially signed the charter establishing the International Association of Jesuit Universities (IAJU) on 11 July 2018, at Loyola, Spain. The charter was also signed by the Secretary for Higher Education, Fr Michael Garanzini, and representatives from each of the six Jesuit conferences.
Welcoming the 300 participants of the IAJU meeting to Loyola, Fr Ignacio Echarte (former Secretary of the Society), reminded the gathering that "this is where it all started 500 years ago." The Sanctuary of Loyola, built around the Loyola family Tower House, is the spiritual center of the region and a foundational reference for the Ignatian family worldwide.
Brief News Archives