The Jesuit university should be a source of reconciled life – Fr Arturo Sosa
(12-Jul-2018)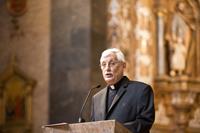 The universities of the Society of Jesus should be "deeply committed to the processes of reconciliation," says Father General Arturo Sosa. Father General Arturo Sosa said this while addressing the International Association of Jesuit Universities in the Basilica of St Ignatius at Loyola, Spain.
Father Sosa said the Society of Jesus has found that the university is "a formidable space to put into practice the mission received from and inspired by the Gospel, to determinedly promote social justice and environmental sustainability through dialogue with cultures and religions."
Regarding the intellectual apostolate, Father Sosa said "intellectual work is apostolate when it is carried out in the open, not locked in a cabinet or within the comfort of its own certainties."
Father Sosa also invited the Jesuit universities to remain loyal to the Jesuit education tradition. "Being loyal to our tradition means creatively responding to the signs of the times." He went on to say "Experiencing the tension of creative loyalty is profound demand of the magis of the spirituality that inspires us." To handle those tensions, Jesuit universities rely on an identity that leads them to "bind people's live to a more humane world, advocating justice and reconciliation among individuals, peoples and the environment."
Brief News Archives