The Church was born to communicate the good news
(20-Nov-2017)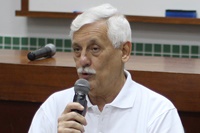 Father General Arturo Sosa says, "The church was born to communicate the good news of Jesus Christ." In a video message to Jesuits and collaborators working in communications offices of the Latin American Jesuit provinces, Father Sosa noted that the Society of Jesus, as part of the Church, is called to communicate the good news of Jesus Christ who gave his life to break what divides us. In Christ, "the barrier of hatred that leads to injustice is broken. The barrier, which produces poverty, exploitation, discrimination, which leads us to wars, that's what Jesus breaks from the cross and becomes the bridge that unites us and that communicates to us the true humanity that is based on the love of God. That is what we want to communicate. That reconciliation of Jesus in us and among us." Click to watch video
New Jesuit provincials concelebrate mass with the Holy Father
(20-Nov-2017)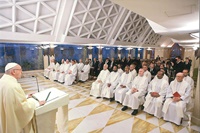 Twelve new Jesuit provincials from around the world recently gathered at the General Curia for a colloquium for new provincials. On Monday, November 13, the provincials concelebrated the Eucharist with the Pope Francis at his residence of Santa Marta in the Vatican. In his homily on the day's gospel, the Pope reminded the congregation of the dangers of scandalizing others. "So, be careful not to scandalize. Scandal is evil, because scandal wounds - it wounds God's People where they are most vulnerable, and strikes the People of God where they are weakest - and many times, the wounds inflicted by scandal are borne by the faithful throughout their lives. Not only does it do harm: scandal is capable of murder - of killing hopes, killing dreams, killing families, killing so many hearts."
Francis Xavier relic arm set for Canadian tour
(20-Nov-2017)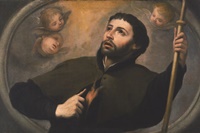 The relic arm of Saint Francis Xavier, which is kept at the Church of the Gesù in Rome, is set for a month-long, 14-city pilgrimage tour of Canada, beginning with Catholic Christian Outreach's (CCO) Rise Up conference in Ottawa December 28-January 1. A Canadian Jesuit, Fr. Michael F. Kolarcik, who is rector of the Pontifical Biblical Institute in Rome, will accompany the relic to Canada after Christmas and Archbishop Terrence Prendergast of Ottawa will accompany it back to Rome in February. Saint Francis Xavier is considered the greatest evangelist in the Church since Saint Paul. His body, considered incorrupt, is at the Basilica of Bom Jesus in Goa, India, though his arm was brought to the Church of the Gesù, Jesuit's mother church in Rome. Read more...
Brief News Archives