Diary of St. Ignatius Loyola restored
(08-May-2017)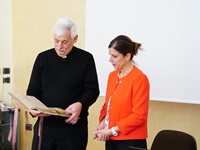 The original copy of the Spiritual Diary of St. Ignatius Loyola has been restored. The painstaking work was carried out by a team led by Dr Melania Zanetti of Università Cattolica del Sacro Cuore. In 2016, the same team completed the restoration process of the original manuscript of the Spiritual Exercises of St. Ignatius. Dr Zanetti presented the restored diary to Father General Arturo Sosa on Saturday, April 22.
Father General meets with collaborators and Ignatian family
(05-May-2017)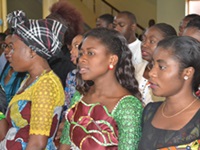 Bukavu, DR Congo: On May 2, Father General met Jesuit collaborators and the Ignatian family (CLC, Apostleship of Prayer and Eucharistic Youth Movement), as well as the faithful of the local Church at Saint Peter Claver Church, in Bukavu. Father General expressed concern about the political and security situation in DR Congo. The Society will endeavor to respond in the best way possible, he said. The best answer, for Father General, must be part of the ministry of reconciliation to which the GC36 invites us. After a short photo shoot with the faithful, Father General visited the works of the parish, including the St. Peter Claver dispensary.
Father General's Tour of the Rwanda-Burundi Region
(05-May-2017)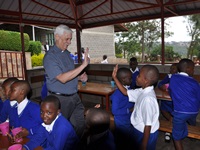 Kigali, Rwanda: On 28 April, Father General visited Ecole Primaire Saint Ignace and Saint Ignatius High School in Kigali, Rwanda. In his address to the students, Rev. Fr. Arturo Sosa, SJ praised the staff and students for the work they are doing and encouraged the Jesuits in their trust and commitment. He mentioned that he also is a graduate from a Jesuit High School, which had started very small but with time, little by little has emerged into a big school. He told the school administrative staff that they are not alone. God is with them, and the Society of Jesus is with them too. He encouraged them to keep the spirit of the magis; a spirit that reminds everyone that they can do more and better, he added. "Magis moves you to be always better in service to others, to the African continent, and to the entire human society." He concluded his address inviting students to join the Society of Jesus: "we want to have Jesuits from you. Open your eyes and ears, and pray for that with me, so that we may have more Jesuits to continue the work your instructors are now doing."
Brief News Archives