Protecting the Least Among Us: A statement of USA Jesuits on Abortion
(19-Jan-2018)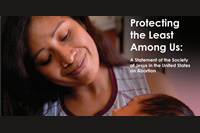 January 22 will mark 45 years since the Roe v. Wade Supreme Court decision made abortion legal in the United States, and today the Society of Jesus in the U.S. is asking Jesuits and their collaborators to continue to stand in solidarity with the unborn and with mothers in difficult situations.
"Protecting the Least Among Us: A Statement of the Society of Jesus in the United States on Abortion" reiterates the Jesuits' support for the unborn, calling abortion "part of the massive injustices in our society."
"A spirit of callous disregard for life shows itself in direct assaults on human life such as abortion and capital punishment. ... We also seek justice in ensuring that pregnant women and mothers have the resources they need to care for their children and live full lives."
Father Timothy Kesicki, SJ, president of the Jesuit Conference of Canada and the U.S., says, "From the beginning, St. Ignatius founded the Jesuits for the promotion of the faith and the progress of souls in the teachings of Christ. As Jesuits, we continue this mission, to accompany the child in the womb and the community into which each one of us has been born."
The statement comes one day before members of the Ignatian family, including many students at Jesuit high schools and colleges, will gather in Washington, D.C., for the annual Jesuit Mass for Life. Noting that the work to end abortion requires not just a change in policy, but a change in culture, it says, "We see great hope in the large number of individuals, especially young Americans, who are active in pro-life efforts."
In addition to calling for Jesuits to stand in solidarity with the unborn - the "least of our brothers and sisters" (Matthew 25:40) - through prayer and political activism, the statement asks Jesuits to deepen their accompaniment with women who have had an abortion.
Jesuits and their colleagues must "find ever new and creative ways to bring the protection of the unborn and solidarity with mothers in difficult situations into whatever mission they serve."
To read the full statement, available in English and Spanish, click here.
Dénonciation des menaces contre le P. Ismael Moreno S.J. au Honduras
(03-Jan-2018)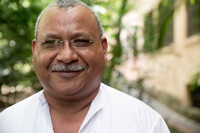 Le texte de la lettre est disponible ici (en anglais)
Le texte de la lettre est disponible ici (en espagnol)
Le très saint nom de Jésus (3 janvier)
(03-Jan-2018)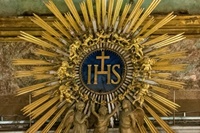 Fête titutlaire de la Compagnie de Jésus
L'expérience fondatrice qui conduisit Ignace et ses compagnons à s'appeler "Compagnie de Jésus" remonte à la vision de la Storta. En 1538, Ignace et ses deux compagnons Pierre Favre et Jacques Lainez se rendaient de Venise à Rome pour se mettre à la disposition du Pape. Ils s'arrêtèrent pour prier dans la petite chapelle de la Storta, à quelques kilomètres de Rome. C'est là qu'Ignace eut sa deuxième plus grande expérience mystique. Il eut une vision dans laquelle Dieu le Père lui disait « je te serai favorable à Rome », et qu'il le placerait avec Son Fils. Ignace ne comprenait pas ce que cela pouvait signifier, entre la persécution et le succès, car Jésus avait connu les deux choses.

D'après les écrits de Lainez, « Il me dit [Ignace] que Dieu le Père avait imprimé dans son cœur ces paroles - je te serai propice à Rome... Il lui semblait voir le Christ portant sa croix sur ses épaules, et près de lui le Père qui lui disait, 'Je veux que tu le prennes comme serviteur'. Et Jésus le prit et lui dit [à Ignace], 'Je veux que tu nous serves'. Ainsi, ayant une dévotion aussi forte pour ce saint nom, Ignace voulut que la congrégation [de ces compagnons] puisse s'appeler Compagnie de Jésus ».

Ce nouvel ordre fut officiellement approuvé par le Pape Paul III le 27 septembre 1540, sous l'appellation Compagnie de Jésus. Pendant longtemps, la Compagnie célébrait sa fête titulaire le 1er janvier, jour de l'imposition du Très Saint Nom de Jésus et de la fête de Marie Mère de Dieu. Lors de la révision du calendrier liturgique universel en 1996, la fête du saint Nom fut rétablie et renvoyée au 3 janvier. Cependant, la Compagnie de Jésus continua la pratique de la célébration de cette fête avec celle de Marie Mère de Dieu le 1er janvier.

Le 3 décembre 2012, le Père Adolfo Nicolás, Supérieur Général de la Compagnie de Jésus envoya une lettre à toute la Compagnie, dans laquelle il communiquait sa décision d'introduire des changements dans le calendrier liturgique (le Propre de la Compagnie) pour se conformer au calendrier liturgique de l'Eglise universelle. Désormais, la fête titulaire de la Compagnie de Jésus est célébrée le 3 janvier, en la fête du très saint Nom de Jésus.
Brief News Archives