Firmado Convenio entre la Secretaría para la Comunicación y los jesuitas
(21-Sep-2017)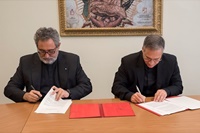 El Convenio se firmó la mañana del 21 de septiembre de 2017. «Esta firma tiene lugar pocos días después de los cien años de vida del P. Stefanizzi», dijo el Prefecto del Dicasterio vaticano Mons. Dario Edoardo Viganò, recordando al que fue «director de Radio Vaticano durante los años del Concilio Vaticano II: un evento que se debía contar a las personas que no conocían el latín, ni la teología. Desde este punto de vista, por lo tanto, el P. Stefanizzi ha sido precursor del modelo 'user fist', es decir, la atención a los usuarios de la comunicación, hoy en el centro de la reforma de los medios vaticanos, querida por el Papa Francisco».
Mons. Viganò añadió que «el P. Stefanizzi ha sabido mediar entre lo que ocurría en el aula conciliar con lo que era necesario que la gente conociera, con el fin de evitar la doble lectura 'dentro' y 'fuera' del Concilio, señalada muchas veces por el Papa Benedicto VI y por el Papa Francisco».
El Prefecto de la Secretaría para la Comunicación expresó asimismo su gratitud personal y la de todo el dicasterio a la Compañía de Jesús, con la cual en el último año y medio ha puesto en marcha un trabajo de discernimiento y replanteamiento de la presencia de los jesuitas en el interior, ya no de Radio Vaticano, sino de una realidad mucho más grande. Con la firma del Convenio la Compañía está disponible para este servicio según la misión apostólica en el mundo de la comunicación. Mons. Viganò manifestó asimismo la gratitud y satisfacción del Papa por esta nueva forma de colaboración en el proceso de reforma.
«Estamos cumpliendo un acto de obediencia al Santo Padre con respecto a los criterios indicados por él», destacó el Prefecto de la Secretaría para la Comunicación y dijo que «la nueva colaboración dará muchos frutos porque cuando se vive un servicio a la Iglesia, se va más allá de la gratificación personal. El servicio supera a cada uno de nosotros y el deseo es que se pueda vivir la profesión 'al modo de Dios', no somos sólo profesionales, sino buenos profesionales transfigurados en la experiencia del misterio de Dios».
Por su parte, el Delegado de la Compañía de Jesús, el P. Juan Antonio Guerrero Alves, declaró: «los tiempos cambian y forma parte de la vocación de la Compañía de Jesús servir a la Iglesia, como pide la Iglesia. Nuestra contribución en el ámbito de la comunicación nos hace felices porque podemos contribuir a las reformas queridas por el Santo Padre».
Fuente: radiovaticana.va
Looking back at the just concluded Tempo Forte - Fr. George Pattery, SJ
(11-Sep-2017)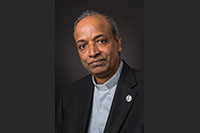 The inscrutable and untranslatable Roman Curial expression - Tempo forte - of Father General's enlarged council, happened again in the mild warm weather of September. It has infused fresh air into us all.
'Imaginative leadership and strategic thinking' sum up the spirit of the proceedings. 'Imagination' is a key word for Ignatius; probably in our usual dichotomous way of thinking, we forget to apply imagination to governance; similarly, Ignatius was strategic in his ways, including that of the Spiritual Exercises - strategy of initiating a process of transformation that is unending; a strategy of initiating a team that would share a universal vision. Strategic thinking introduces more than logical arguments.
In the Tempo forte, we discussed ways and means of initiating processes to involve the Society in apostolic planning and in reorganizing the central governance - both of them mandated by GC 36. While accessing models available around us, we searched for refreshing ways through 'spiritual conversations' engaging both heart and mind to listen to our interior movements and to share views and perspectives.
It appears to me, that different dimensions of reconciliation are emerging. Reconciliation that remains the over-arching thrust of our mission aligning life-mission (a hyphenated expression favoured by Father General). In a world where a 'normalization of hatred ideology' and a polarization in the name of religion, is prevalent, reconciliation is being retrieved even by civil society (including the world of art) as a viable response - revisiting the experiment of the 'half-naked fakir' (Mahatma Gandhi)! 'Servants of Reconciliation and Justice' is a challenge and an opportunity for us to mend our binary ways.
The urgency and freshness of our ways is promising. The six Conferences in the Society are moving, probably at six different 'paces', underlining the variety and the richness of plurality of the creative Spirit - that is the conclusion, we, the six presidents arrived at, at the end of a separate meeting of the conference presidents.
Secretariat for Ecumenism and Interreligious Relations meets
(11-Sep-2017)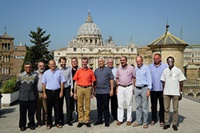 The Secretariat for Ecumenism and Interreligious Relations had its first meeting with Fr General Sosa from 28-31 August at the General Curia in Rome. Seven of Fr General's advisors for relations with other religious traditions took part in the meeting: Milan Žust (Orthodoxy), who also serves as coordinator for the group, Markus Schmidt (Protestantism), Marc Rastoin (Judaism), Gregory Sharkey (Buddhism), Heru Prakosa (Islam), Felipe Aguilar (Indigenous American Religion), and Mpay Kemboly (Indigenous African Religion). The secretariat's work is aided by the Counsellor for Discernment and Apostolic Planning, Fr John Dardis.
The group marked the recent passing of Fr Noel Sheth, a renowned scholar of eastern religions who had been a member of the secretariat since it was established by Fr Adolfo Nicolas. In his place Greg Sharkey presented the reports on Hinduism. John Mundu (Indigenous Indian Religion) was unable to attend this year's meeting, but forwarded reports for the group to discuss.
In addition to giving annual reports on dialogue activities, the advisors considered the issue of religious fundamentalism in their respective traditions, its root causes, and our response to it as Christians and Jesuits. This year, for the first time, General Counsellors were welcomed to the working sessions, which added great depth to the discussions.
Brief News Archives