Protecting the Least Among Us: A statement of USA Jesuits on Abortion
(19-Jan-2018)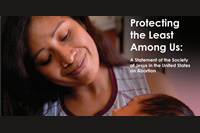 January 22 will mark 45 years since the Roe v. Wade Supreme Court decision made abortion legal in the United States, and today the Society of Jesus in the U.S. is asking Jesuits and their collaborators to continue to stand in solidarity with the unborn and with mothers in difficult situations.
"Protecting the Least Among Us: A Statement of the Society of Jesus in the United States on Abortion" reiterates the Jesuits' support for the unborn, calling abortion "part of the massive injustices in our society."
"A spirit of callous disregard for life shows itself in direct assaults on human life such as abortion and capital punishment. ... We also seek justice in ensuring that pregnant women and mothers have the resources they need to care for their children and live full lives."
Father Timothy Kesicki, SJ, president of the Jesuit Conference of Canada and the U.S., says, "From the beginning, St. Ignatius founded the Jesuits for the promotion of the faith and the progress of souls in the teachings of Christ. As Jesuits, we continue this mission, to accompany the child in the womb and the community into which each one of us has been born."
The statement comes one day before members of the Ignatian family, including many students at Jesuit high schools and colleges, will gather in Washington, D.C., for the annual Jesuit Mass for Life. Noting that the work to end abortion requires not just a change in policy, but a change in culture, it says, "We see great hope in the large number of individuals, especially young Americans, who are active in pro-life efforts."
In addition to calling for Jesuits to stand in solidarity with the unborn - the "least of our brothers and sisters" (Matthew 25:40) - through prayer and political activism, the statement asks Jesuits to deepen their accompaniment with women who have had an abortion.
Jesuits and their colleagues must "find ever new and creative ways to bring the protection of the unborn and solidarity with mothers in difficult situations into whatever mission they serve."
To read the full statement, available in English and Spanish, click here.
Denuncia de amenazas al P. Ismael Moreno S.J. en Honduras
(03-Jan-2018)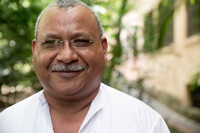 Ante las renovadas amenazas contra la vida de nuestro compañero el P. Ismael Moreno Coto (P. Melo) y a otros líderes hondureños que luchan, al lado de su pueblo por el reconicimiento de sus legítimos derechos democráticos, la CPAL hace la siguiente denuncia pública.
El texto de la carta está disponible aquí
SS.mo nombre de Jesús (3 de enero)
(03-Jan-2018)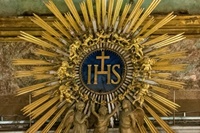 Titular de la Compañía de Jesús
La experiencia fundacional que llevó a Ignacio y sus compañeros a adoptar el nombre de "Compañía de Jesús" se remonta a La Storta. En 1538 Ignacio y dos compañeros, Pedro Fabro y Diego Laínez, habían partido de Venecia y se dirigían a Roma para poner a disposición del Papa sus personas y a los demás de su grupo. Unos pocos kilómetros antes de Roma, se detuvieron a rezar en la capilla de La Storta. En aquel lugar tuvo Ignacio la segunda en importancia de sus experiencias místicas. En una visión Ignacio escuchó a Dios Padre que le decía: "Yo os seré propicio en Roma". A la vez le manifestó que le pondría con Su Hijo. No sabía Ignacio qué significaban estas palabras, ya que lo mismo podían anunciar persecuciones que favores, pues ambas cosas eran propias de Jesús.

En los últimos escritos de Laínez leemos lo siguiente: Me dijo (Ignacio) que Dios Padre había dejado impresas estas palabras en su corazón - 'Yo os seré propicio en Roma...' Me pareció que había visto a Cristo con la cruz sobre los hombros, y junto a Él al Padre que Le decía 'querría que tomases a este hombre como servidor'. Y que por eso Jesús lo tomó por tal y le dijo (a Ignacio) 'quiero que seas nuestro servidor'. Y por eso, con gran devoción hacia este santísimo nombre (Ignacio) quiso que la congregación (de estos compañeros) se llamase Compañía de Jesús".

El Papa Paulo III dio su aprobación formal a esta nueva orden religiosa el 27 de septiembre de 1540, que se llamó Compañía de Jesús. Hasta hace poco la Compañía celebraba su fiesta titular el día 1 de enero, porque ese era el día de la fiesta del Santísimo Nombre de Jesús junto con la fiesta de María Madre de Dios. Con la revisión del calendario universal de 1996 la fiesta del Santo Nombre de Jesús pasó a celebrarse separadamente en el día 3 de enero. La Compañía siguió, a pesar de todo, con la práctica de celebrar la fiesta, junto con la de María Madre de Dios, el día 1 de enero.

El 3 de diciembre de 2012 el P. Adolfo Nicolás, Superior General de la Compañía, hizo pública su decisión de introducir cambios en el calendario litúrgico propio de la Compañía de Jesús para acomodarlo al calendario litúrgico universal de la Iglesia Católica. En adelante la Fiesta Titular de la Compañía de Jesús se había de celebrar el día 3 de enero, Fiesta de Santísimo Nombre de Jesús.
Brief News Archives