Dialogue with Lay Catholics in Public Life
(14-Jul-2017)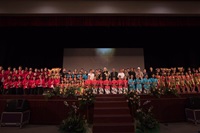 I am grateful to the Jesuit Province of Indonesia for organizing this dialogue with you, lay Catholics who have received what Pope Francis has called "the virus" of Ignatian formation, and who now play important roles in Indonesian society. St. Ignatius used to call himself "the pilgrim," someone actively searching for the will of God. I would like to use that word for myself and for all of us too. I come here as a pilgrim among my fellow-pilgrims, not as an expert with all the answers. I received a list of possible questions that you bring to this dialogue, but I also have a list of questions that I want to ask you! My hope is that, through our brief exchange, we can help each other see a little more clearly what God might be calling us to be and do in our world where there is so much beauty and hope, but also so much suffering and despair.
The goal of these brief remarks, then, is to provide some thoughts that might stimulate or initiate our dialogue. What I would like to do then is to share some perspectives from our recently concluded 36th General Congregation, held last year in Rome, during which we reflected on concerns in the Church and the world and we discerned our response as a Society.
There will be three parts to my sharing. First, I will identify some global issues that challenge us and call for a response. Second, I would like to say a word about the response of the Society summarized in the word "reconciliation." Third, I will end with some elements that will make renewal in our apostolates and ministries possible. Hopefully, this presentation might help give you a better sense of some of the concerns of the Society of Jesus today and can initiate our conversation.
I. The Situation of the World
We began the Congregation reflecting on a document called the De Statu Societatis that had been prepared by a special committee, which included one of your outstanding Indonesian intellectuals, Fr. Herry Priyono. That document highlighted some lights and shadows in our world today, areas of serious concern for all humanity, for the Church and the Society of Jesus. Let me mention six inter-related areas of global concern:
• First, unprecedented demographic shifts. Millions of people have become migrants and refugees, fleeing conflicts, poverty, natural disasters, searching for a better life. Some societies have responded with welcome, but others have reacted with fear and anger, seeking to build walls and strengthen barriers.
• Second, growing inequality. While the global economic system has created enormous wealth and has allowed some countries to move large segments of their populations out of poverty, at the same time, inequality is growing in a staggering way. The gap between the rich and the poor has increased, and certain groups of people, such as indigenous peoples, have become even more marginalized.
• Third, increased polarization and conflict. War, conflict, acts of violence, intolerance and terror are on the increase. While the true causes of much of this polarization is poverty, fear, ignorance, and despair, sadly much violence is justified using the name of God. The use of religion and God to justify hatred and violence is one of the great counter-signs of our time.
• Fourth, the ecological crisis affecting what Pope Francis has called our "common home." As Pope Francis has emphasized in Laudato Sí', the dominant way human beings produce and consume and the spread of a "throw-away" culture have gravely harmed the environment and threaten the sustainability of our planet for future generations.
• Fifth, the "expanding digital ecosystem." The Internet and social media have changed the way human beings think, react, communicate and inter-act. This is not just a question of technology, but of a new world in which people live. It is the beginning of a huge cultural change that is progressing at an unimaginable speed, affecting inter-generational and personal relationships, and challenging traditional cultural values. This digital ecosystem has made possible the spread of information and the globalization of solidarity; but it has also given rise to greater divisions, the spread of viral hatred and fake news.
• Sixth, the weakening of politics as a means of seeking the common good. In many places in the world, there is widespread disillusionment with the way politics has been practiced by politicians and political parties. There is a deep well of discontent with and distrust of political leaders, because of so many unfulfilled expectations and unresolved problems. This discontent has made it possible for certain populist leaders to rise to power through their exploitation of people's fear and anger and their seductive but unrealistic promises of change.
II. God's Mission, Our Mission
Most concerned human beings would ask: What are we to do, in the face of these enormous challenges?
For people of faith, however, the first question to ask is: what is God doing, how is God acting in this world? St. Ignatius reminds us that God lovingly labors in the world; and the heart of Ignatian spirituality is discernment, seeking to see how God is laboring in the world, and how he calls us to share his work as individuals and as groups.
Reflecting on this world in the light of the Word of God and our experience, GC 36 recognized anew what St. Paul already wrote about in the Second Letter to the Corinthians: that God is "reconciling the world to himself in Christ." (2 Cor 5:19). Thus, GC 36 felt strongly "the call to share God's work of reconciliation in our broken world." (GC 36, D.1, No. 21). It identified three dimensions of this one work of reconciliation: reconciliation with God; reconciliation with one another; and reconciliation with creation. This is how the Society of Jesus today sees its mission, its call from the Lord.
We will not have time to go in depth into these three dimensions, but let me say a word about each of these dimensions of mission.
• First, reconciliation with God. I quote some striking words from the speech Pope Francis gave in Egypt last April, when he participated in the Conference for peace organized by the Grand Imam of Cairo. There Pope Francis said: "Religion is not a problem but a part of the solution: against the temptation to settle into a banal and uninspired life, where everything begins and ends here below, religion reminds us of the need to lift our hearts to the Most High in order to learn how to build the city of man."
"Religion is not a problem but a part of the solution." An increasingly secularized world sees religion as the problem, the cause of violence, for example. Thus, part of our mission must be to give witness that religion, or better, faith is "part of the solution." Religion, true religion, helps us make the world more human, not less human. I think this is one reason why Pope Francis is so effective as a religious leader: he is first of all a witness. He is completely consistent; he shows credibly how faith in Christ makes a person joyful, compassionate, free. We Jesuits know that we have to undergo much conversion if we are to be better witnesses. Our words are often better than our lives.
My predecessor, Fr. Nicolás, who lived in Asia for 40 years, always emphasized the importance of witness in Asia, witness that speaks more powerfully than words. But witness, if it is real, must come from within, from a genuine and deep relationship with God. Thus, GC 36 emphasizes that Society must continue to promote Ignatian spirituality and all the ministries that help people know, love and surrender to the living God.
This focus on renewing Ignatian spirituality is a call we feel for ourselves as Jesuits. GC 36 calls the Society to a "profound spiritual renewal." But we are also convinced that Ignatian spirituality is a gift for the whole Church, especially for those who are actively involved in service such as you. One of the signs of hope I see is that so many lay people are being formed deeply as spiritual guides and directors in so many parts of the world, including Asia, China, the Philippines, Hong Kong, Vietnam, for example. I am also happy to see programs for Ignatian leadership for Jesuits and lay people being developed and run in Asia, Europe, the United States, and Latin America.
• Second, reconciliation within humanity. GC 36 highlighted three forms of suffering and alienation that call for special attention from the Society: namely, first, displaced peoples, that is migrants and refugees; second, marginalized peoples who suffer most from the growing inequality in the world, such as indigenous peoples; third, violence and intolerance justified by "distorted religious convictions."
There is much to be said, but I would like just to emphasize two points here from GC 36. First, GC 36 asks the "Society to promote everywhere a more generous culture of hospitality." Hospitality is one of the most important and most neglected virtues for our world today. It is not simply a matter of social graces or politeness, of welcoming guests. It is the virtue that allows me to hear the moral claim of any human being on me, regardless of race, gender, class or religion, simply because the other person is a human being, created in the image of God. It is the virtue that allows people to see those who are different not as threats or enemies to be feared, but as fellow human beings to be welcomed. It is not an easy mindset to promote, because so many elements in our culture today, whether it be political or so-called religious leaders, or the media, promote fear, suspicion and exclusion instead of hospitality.
Second, GC 36 also highlights the importance of education in forming men and women committed to and able to promote reconciliation. Education in formal and informal structures are the biggest apostolic commitment of the Society of Jesus and the field of a huge collaboration with so many others.
I would just like to mention the example of Jesuit Refugee Service, which has recently become more fully engaged in education for refugees on primary, secondary and tertiary levels. Millions of children are included among those who are refugees today, and the average length of time of displacement, including staying in the refugee camps, is 17 years. Without education, these child refugees will not have a future. Moreover, the former international director of JRS always insisted that, without education, refugee camps will simply become breeding grounds for extremism. At the same time, these children will not be refugees or displaced people for the rest of their lives. They need to be helped not to waste this time of their life when they can be formed for a better future.
• Third, reconciliation with creation. GC 36 wholeheartedly supports the analysis of Pope Francis in Laudato Si', who said that the environmental crisis in our world is due to the deeper social crisis: the way our current economic systems produce, consume and discard. Thus, GC 36 asks the Society to help promote a more sustainable direction of development.
As you know, discussions in this area of models of economic development is very intense. Many intellectuals, scholars and politicians do not agree with Pope Francis' view of the interconnectedness of the economic, social and environmental crisis. Many of them are sceptical about the possibility of another economic model and deny the connection between economics and justice as the fundamental basis of a democratic society. We do not think in that direction. We believe that what seems impossible is possible. We know that another world is possible; that another, more humanizing economic system is possible, and we are trying hard to make our best contribution to make it happen. Just to give you an example: Recently a small group of international Jesuits and lay leaders from our social centers and universities came up with an important analysis of the present world economic model, which was published in Promotio Iustitiae.
I would like to simply emphasize however that GC 36 not only calls for these grand, macro-level solutions to the ecological crisis of the world. It asks for two very practical, and in some ways, more difficult steps. First, "changing our personal and community lifestyles." This is a big challenge. Second, "to celebrate creation, to give thanks." I remember one wise Jesuit deeply involved in ecology insisting that we must begin with thanksgiving for creation, because we will not protect what we do not love, and we can only love our common home if we can celebrate and give thanks for it.
III. Towards a Renewal of our Service
I have described some of the global issues we are concerned about, and also explained our articulation of our mission today as one of promoting reconciliation with God, reconciliation within humanity and reconciliation with creation. Let me end by identifying some concrete elements that should characterize our service or apostolate if we are to be more effective servants of Christ's mission of reconciliation. These are addressed by GC 36 to Jesuits and Jesuit works (cf. Dec. 1, Nos. 31-38); but I think you might find they might be applicable to you too, so I will propose some questions for reflection for each as well.
• First, "all our ministries should seek to build bridges, to foster peace." One might ask: in my service, do I build bridges, do I promote mutual understanding, forgiveness, communion or do I polarize and divide further?
• Second, depth. This was a favorite word of our former Fr. General. By this, he meant, spiritual depth, a deep rootedness in God, but also intellectual depth, because the complex problems of our time require a depth of reflection and understanding that will lead to true, longer lasting solutions. How much of the service I give draws on my faith, my relationship with the Lord? Is what I do marked by serious study, reflection, analysis?
• Third, collaboration. The mission of Jesus Christ does not belong to the Society of Jesus, but to all who feel drawn to this mission, even those who do not know him but embrace his values. The challenges are so great that the time of "single fighters" is over; we can only respond to the great concerns if we are willing to work together. We are invited to become a minima Compañía in collaboration, focused on collaboration with others in Christ's mission. How much collaboration do I promote? To what extent do I facilitate service in common and to what extent am I sometimes an obstacle?
• Fourth, promoting processes. GC 36 took this idea once again from Pope Francis, who has insisted that we should not be so much concerned about "occupying spaces, but promoting processes." In other words, we do not measure our effectiveness by the size of our buildings or the number of our students, but by asking: in the people we help and in the works we do, are persons and societies undergoing processes of change and transformation?
• Finally, hope. "We need more than ever to bring a message of hope," GC 36 insisted, "hope that is born of consolation from encounter with the risen Lord." There is so much despair and desolation in our world. The hopes that the consumerist world gives to the young-a new cellphone, a new gadget--are too small for the hearts of human beings. Many embrace extremist movements precisely because these movements connect individuals to a larger goal, or dream, or narrative, worth the sacrifice of their lives. What about us? Where do I find hope in my own life or work? What do we do to help hope grow in those I serve?
I will end here, but I hope that these thoughts can stimulate our conversation. I have questions as well, but we will begin with your questions. I take this opportunity to thank you for your support for the Society of Jesus. I also ask you to continue to pray for us, to dialogue with us, to correct us when needed, so that together we can serve God's mission of reconciliation in our world.
Jakarta, Indonesia, 13 July 2017
Brief News Archives