We are united in our desire to promote peace and reconciliation, says Fr Sosa after first dialogue with Buddhists
(20-Jul-2017)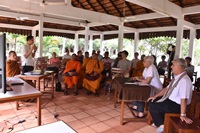 Landing in Siem Seap on the second leg of his first trip to Asia Pacific, Fr General Arturo Sosa quickly found himself in completely different setting. From Indonesia, a predominantly Muslim country with about 350 Jesuits and many institutions and collaborators, he was now in a largely Buddhist country, with a small cohort of 26 Jesuits working with a modest number of collaborators.
It was his first time in a Buddhist country, and to visit Jesuits and partners in mission working together in such a context, he shared in his homily on July 15 in the chapel of the Metta Karuna Reflection Centre in Siem Reap where stayed for most of his visit.
He pointed out that the readings of the day were reminiscent of General Congregation 36, saying "In a world of so much violence, divisions and intolerance, we are called to build bridges, to create a 'culture of hospitality' and welcome. In a world where there is so much 'fear and anger,' and where 'hope is threatened,' we are called to bring the hope of the risen Lord in all our apostolates and ministries."
Later that morning, Fr In-don Oh SJ, Superior of the Jesuits in Cambodia, presented the history of the Jesuit mission in the country, from its beginnings in the refugee camps of Thai-Cambodia border in the early 1980s to its present commitments in social service, education, ecology, interreligious dialogue and pastoral work. Msgr Enrique Figaredo SJ, the Apostolic Prefect of Battambang, introduced Fr General to the creative ministries of the Prefecture.
In his talk after the presentations, Fr Sosa underscored the importance of collaboration and reminded them that they are, themselves, collaborators too. "We like to talk about Jesuit mission with our collaborators. But, we have to remember that our mission is not our own, but Christ's mission, and we Jesuits are also collaborators in that mission," he said.
In the afternoon, Fr General met with a group of Buddhist monks to learn about Buddhism and Buddhist work on peace and reconciliation in Asia including the story of the Buddhist peace walk, begun by the great Buddhist sage Maha Ghosananda during the bloody days of the civil war in Cambodia.
The 80 Jesuits, collaborators and volunteers gathered were touched by the simplicity, depth and spiritual wisdom shared by Buddhist monk Ven Sovechea and peace activist Bob Mat. Fr Sosa found it "deeply consoling to see how we are united in our desire to promote peace and reconciliation in our world". He added, "It is also consoling to see how we share a belief that the path to peace begins from within, from the deep transformation of the inner person, from growing in detachment and in loving kindness".
The interreligious dialogue ended fittingly with the blessing of the wheels of reconciliation located along a pond in the Metta Karuna grounds that was hollowed by a cluster bomb. The monks chanted blessings for peace and reconciliation, and the Christian beatitudes were proclaimed in the Khmer language.
Afterwards, JCAP Coordinator for Dialogue with Buddhism Fr In-gun Kang took Fr General to the 1,000 year old Wat Svayromeath, the oldest temple in Siem Reap. It was Fr Sosa's first visit to a Buddhist temple and the Chief monk Ven Vuthi introduced Fr General to 80 novice monks - children and teenagers studying in the monastic school - who impressed him with their concentration during meditation. In a gesture that surprised Fr Kang, Ven Vuthi invited him and Fr Sosa to sit among the young monks.
"It is very unusual to sit in that way in the Theravada tradition; even the king has to respect monks by sitting in a separate seat. I think Ven Vuthi respected us as equal religious friends who deserve to sit together in the temple," said Fr Kang.
On July 16, Fr General Sosa flew to Phnom Penh where he visited the Tuol Sleng Genocide Memorial Museum built to remember the tens of thousands who were tortured and killed after the Khmer Rouge took power in 1975. The visit prompted Fr Sosa to recall the tragic events of his own country, Venezuela, during the dictatorship. He said that this kind of history is tragic and terrible but something that people have to remember. After his tour, Fr Sosa met with Bishop Olivier Schmitthaeusler, Apostolic Vicar of Phnom Penh.
The following day, Fr General visited Banteay Prieb, the Jesuit vocational training centre for survivors of landmines and polio and people with learning disabilities that had been the foundation of Jesuit involvement in Cambodia. Fr Sosa was also shown the room where Richie Fernando, a Filipino Regent, was killed in October 1996 while attempting to calm a problem student who had threatened the school with a grenade. Fr Sosa, moved by the martyrdom of Richie, offered a short and silent prayer in front of Richie's memorial and blessed the people gathered around.
Fr Oh, who accompanied Fr Sosa from Siem Reap to Phnom Penh and then to Singapore, said that Fr Sosa's visit had been a source of inspiration for the Jesuits and collaborators in the Cambodia mission. "Many expressed their gratitude and joy for being graced with his loving presence, simplicity, joyful laughter and accessible nature."
Brief News Archives