Secretariat for Ecumenism and Interreligious Relations meets
(11-Sep-2017)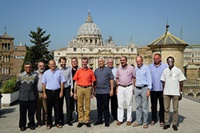 The Secretariat for Ecumenism and Interreligious Relations had its first meeting with Fr General Sosa from 28-31 August at the General Curia in Rome. Seven of Fr General's advisors for relations with other religious traditions took part in the meeting: Milan Žust (Orthodoxy), who also serves as coordinator for the group, Markus Schmidt (Protestantism), Marc Rastoin (Judaism), Gregory Sharkey (Buddhism), Heru Prakosa (Islam), Felipe Aguilar (Indigenous American Religion), and Mpay Kemboly (Indigenous African Religion). The secretariat's work is aided by the Counsellor for Discernment and Apostolic Planning, Fr John Dardis.
The group marked the recent passing of Fr Noel Sheth, a renowned scholar of eastern religions who had been a member of the secretariat since it was established by Fr Adolfo Nicolas. In his place Greg Sharkey presented the reports on Hinduism. John Mundu (Indigenous Indian Religion) was unable to attend this year's meeting, but forwarded reports for the group to discuss.
In addition to giving annual reports on dialogue activities, the advisors considered the issue of religious fundamentalism in their respective traditions, its root causes, and our response to it as Christians and Jesuits. This year, for the first time, General Counsellors were welcomed to the working sessions, which added great depth to the discussions.
Brief News Archives