Father General begins visit to Brazil
(18-Oct-2017)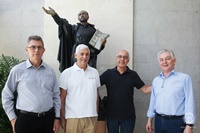 Father General Arturo Sosa arrived in Rio de Janeiro on Monday, 16 October for a visit to the Jesuit Province of Brazil, as well as to attend the Jesuit Pre-Secondary and Secondary Education Congress (JESEDU-Rio2017). On Tuesday, October 17, he visited the Colégio Santo Inácio, one of the 17 institutions that make up the Jesuit Education Network (RJE) in Brazil. Colégio Santo Inácio has been in existence for more than 100 years, and has nearly 3,000 alumni in the city of Rio de Janeiro.
Father Claudio Paul, General Counsellor and Regional Assistant for South Latin America has accompanied Father General on this trip to Brazil.
Brief News Archives