Fr Sosa visits medical center and Catholic University in Rio de Janeiro
(19-Oct-2017)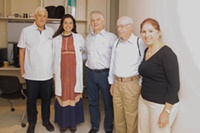 Father General Arturo Sosa visited the Ambulatório São Luiz Gonzaga, a medical clinic located next to Saint Ignatius College. It is a health care centre that offers a wide variety of free medical examinations to the poor population of the city. The association alumni of Saint Ignatius College runs the outpatient clinic of the centre. Fifty-two medical personnel offer their services to more than 80 thousand people a year at Ambulatório São Luiz Gonzaga.
After visiting the clinic, Father Sosa visited the Curia of the Brazilian Province for a brief visit. Later in the afternoon, Father General visited the Pontifical Catholic University of Rio de Janeiro. The university was founded by Jesuit Father Leonel Franca, with a group of Catholic intellectuals 77 years ago on behalf of the Archdiocese of Rio de Janeiro. Since its foundation, the university has been entrusted to the care of the Society of Jesus. The Pontifical Catholic University of Rio de Janeiro has a student population of 25,000 and has recently been ranked among the top 10 Latin American universities.
After visiting the campus, Father General had a meeting with the university's governing body, after which he delivered a lecture to professors and students whose theme was "A university called to contribute with academic excellence in the mission of reconciliation and justice."
At the conclusion of the lecture, the Rector presented Father General with the "Dom Helder Camara" medal. The day ended with the celebration of the Eucharist in the university chapel. Members of the academic community, members of CLC, diocesan clergy and several friends of the Society participated in the Eucharist.
Brief News Archives