Learn how to discern the signs of the Lord in order to collaborate in the reconciliation of the world – Fr. Sosa
(18-Jul-2018)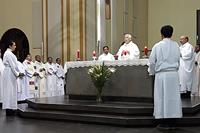 Father General Arturo Sosa has urged Jesuits and collaborators to be attentive to the signs of the Lord's actions in order to collaborate in the process of reconciliation of men with one another, with humanity, with creation and with God himself. Father General made the remarks during the Eucharist celebrated in the city of Cochabamba
He noted that Pope Francis insists on the need for discernment in the Church, recognizing that discernment offers the possibility of "understanding where the Lord is sending us a message" and to review as an apostolic body whether we have developed this sensitivity.
Fr. Sosa recalled that after General Congregation 36 the Society of Jesus is in a process of common discernment of apostolic preferences. With this discernment, with this sensitivity to grasping the signs of the Lord, it will be possible to see how it is possible to collaborate with the Ignatian charism and to identify the resources with which it is available.
"That is what we ask the Lord today, to cultivate in us a sensitivity to the signs of his action, to increase our faith and to invite us to contribute. Let us work together to ensure that human beings freely accept this path. And that we develop the capacity to discern so that we may follow the Holy Spirit," he said.
In this sense, from the spiritual heritage of St. Ignatius Loyola, and from the entire apostolic heritage, the Superior General asked those attending the Eucharist to renew their desire to collaborate with the Lord in order to contribute to the reconciliation of the world, since by following his signs it is possible to "turn human history into a history of justice and peace guided by love".
Brief News Archives