The educational work of the Society of Jesus should be characterized by an Intellectual Apostolate – Fr Sosa
(19-Jul-2018)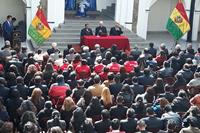 The Superior General of the Jesuits, during his meeting with representatives of the educational works of the Bolivian Province, exhorted that Ignatian pedagogy be understood as a commitment to deepen knowledge in order to be able to influence the transformation of reality and to be effective in the service of others.
Fr. Sosa stressed that Ignatian pedagogy requires a commitment "to think, to understand and to create new paths" and that the educational institutions of the Society of Jesus must bear in mind the aspect of mission that deals with the Intellectual Apostolate.
"Many times this type of apostolate is understood as the exclusive task of university centres or researchers. I propose that we broaden this understanding, so that all educational work and all apostolates carried out by the Society and by the institutions under its responsibility may be a truly intellectual apostolate," he said.
To exercise the intellectual apostolate, Fr. Sosa indicated that reflection and deepening of knowledge is necessary, that is, the capacity to influence the transformation of reality from a serious analysis, with interiorization and preparation.
To this end, he recalled the call of the General Congregation 36 in this regard: "We do not want to propose a simplistic or superficial hope, on the contrary, our contribution - as Father Nicolás insisted - must be distinguished by its depth. A depth of interiorization and reflection that allows us to understand reality more deeply and to be more effective in service."
"If we do not deepen this understanding," said Father Sosa, "we fall into a kind of superficiality of existence."
On the other hand, he referred to a new phenomenon in Latin American society: the transformation of educational services into market products. Currently, there is an extensive amount of educational offerings from some institutions that prioritize economic generation through a so-called "educational offer", leaving aside educational quality.
He called it "mercantilist education" which focuses its service on the product for potential clients and where the pedagogical relationship is translated into client and producer.
"Today, to carry out our proposal in a reality dominated by the laws of the market affects us, however, as bearers of a message of hope we want to continue to maintain an educational proposal in which the human being, each person, and not the market, is what really matters", he concluded.
Fr. Arturo Sosa took advantage of the Education Meeting in the city of La Paz to say goodbye to the Province of Bolivia, expressing his gratitude for the welcome and for the expressions of affection, faith and hope.
During his visit to Bolivia, the Superior General participated in meetings with the media sector of the Province, with young Ignatians, with indigenous peoples of the Bolivian Amazon and with collaborators who work in the apostolic works and institutions entrusted to the Society of Jesus.
Brief News Archives